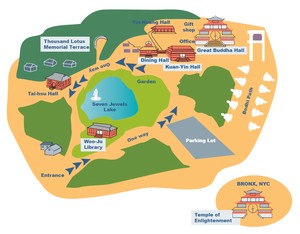 Tour guide is possible available for groups visiting to the Chuang Yen Monastery.
This service is free of charge, and is provided by volunteers of the monastery who are willing to travel long distance and to dedicate their time, in order to help groups to learn more about the monastery.
The tour is usually lasting about an hour to introduce basic Buddhism and the monastery; a short meditation could be included upon request. Please check monastery calendar to avoid the time when retreat is in progress. The best start time for group tour will be 10:00 am and no later than 2 pm.
Interested groups, you can ask for the service through the following link: Group Tour Registration
Please note: Donations are welcome to the monastery. Please make the check payable to "B.A.U.S".
If you have any further question, please contact Ven. Wulin   cym@baus.org.